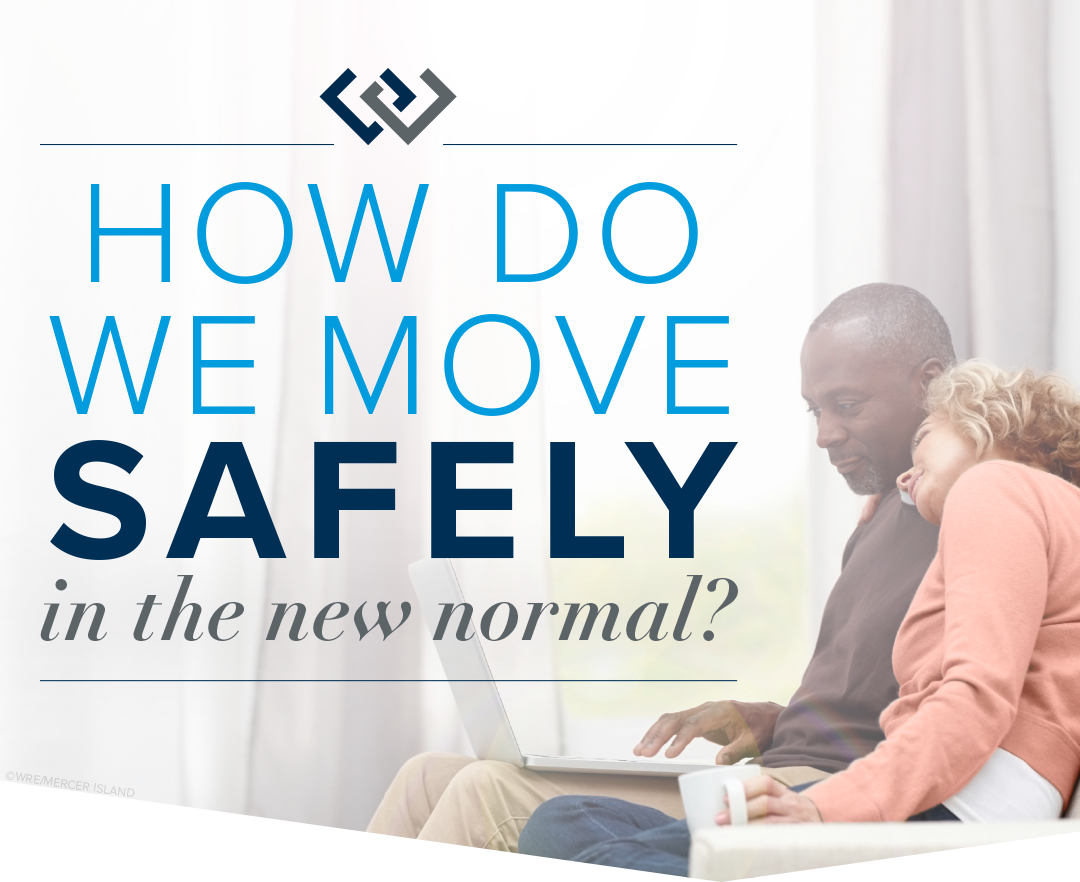 While buying and selling real estate was recently deemed essential in Washington State, the landscape looks very different than it did before the COVID-19 outbreak. Real estate offices remain closed to the public with agents (like my team) working remotely and hosting virtual client meetings. Important safety regulations prohibit in-person open houses and limit the number of people who can tour a home or attend an inspection. Social distancing will remain at the forefront as we wait for a vaccine or treatment to become widely available.
So how do you buy or sell a home safely in this new environment? Thanks to modern technology, there is a lot we can do to help you through the process while minimizing the risk to you and the community. Here are some tips on how to do it right…
---
TIPS FOR BUYERS
Do your homework

before

you tour a home in person. Take a virtual online tour, research the neighborhood and ask your agent to delve into the property and title history. If a virtual tour isn't available, your agent can give you a preview via FaceTime or Skype while walking through the home.

Get pre-qualified.

Knowing your exact budget in advance will help you save time and avoid any non-essential showings.

Schedule a 1-hour showing window.

When you think you've found "the one" and are ready to tour it in-person, have your agent book a full hour so that you are less likely to run into other buyers. This will also allow time for each person to see the home since there is currently a limit of just 2 people in the home at once, including the agent.


Meet your agent at the home.

Instead of carpooling, drive separately and then wait in your car until your agent confirms that the home is empty and ready to tour. Condos may have special rules for showings and you'll also want to take separate elevator trips if you're touring a high-rise.


Play it safe during the tour.

Wear a mask, wash/sanitize your hands when you enter and leave, limit touching of surfaces, and maintain at least 6 feet of social distance from your agent at all times. Assume you might be recorded by the homeowner and observed by neighbors.
Meet virtually with your agent. When it's time to write an offer, your agent can use any number of video conferencing apps to share documents with you and discuss them in real time. You can then sign and authenticate all contracts electronically via a secure service such as Authentisign.

Don't

skip a professional home inspection. Due to the difficulties around seeing the home in person, it is more important than ever to make sure you know of any underlying issues it may have. The 2-person rule still applies at inspections so your agent will likely request the seller's permission for you to be in the home alone with the inspector while the agent waits in the car. You'll also need to make sure you and your inspector comply with all social distancing and safety rules.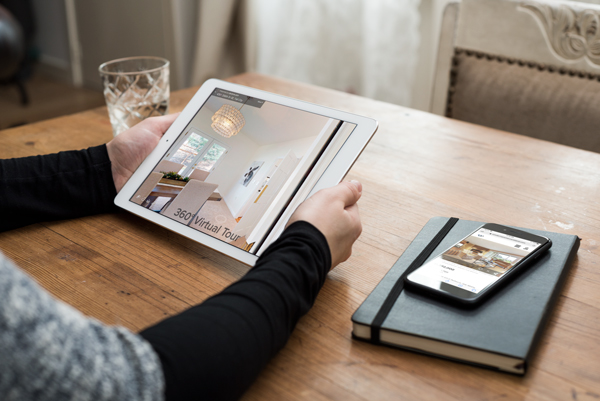 ---
TIPS FOR SELLERS
Give your listing agent a virtual tour.

Rather than meeting in person, utilize an app like FaceTime or Skype to virtually walk your agent through your home using your smart phone. Hold meetings virtually whenever possible and sign documents electronically through a secure service such as Authentisign.


Move out first if at all possible.

This makes it practical for buyers to comfortably view your home while following the current 2-person limit for home occupancy during showings. It also protects you from any potential exposure—especially important if you are in at at-risk age group and/or have health problems.


Time the market with expert advice.

Talk to an agent you can trust who follows the ins and outs of regulations from the Governor's office and also has access to showing data and activity reports that can help you determine the best time to sell.
Look your best online. Make sure your agent will coordinate truly stellar home preparation, staging and photography. Consider having a professional video tour and interactive floor plans as well.

Have your agent hold a virtual open house. Live-streaming a virtual tour from inside the home is a great way for your agent to reach buyers and answer their questions in real time. Virtual open houses are also now promoted on virtually all home search websites and apps.


Prepare diligently for in-person showings.

Be sure that you or your agent provides hand sanitizer, single-use booties and masks along with a sign detailing the safety guidelines you would like visitors to follow while in your home. Open interior doors and turn on lights ahead of time to minimize touching. Disinfect high-use surfaces after each showing.
---

Find a Home | Sell Your Home | Property Research
Neighborhoods | Market Reports | Our Team
We earn the trust and loyalty of our brokers and clients by doing real estate exceptionally well. The leader in our market, we deliver client-focused service in an authentic, collaborative and transparent manner and with the unmatched knowledge and expertise that comes from decades of experience.
2737 77th Ave SE, Mercer Island, WA 98040 | (206) 232-0446
© Copyright 2020, Windermere Real Estate / Mercer Island
Posted on May 4, 2020 at 9:33 pm
Windermere MI
Category:
Uncategorized
Tagged

buy, coronavirus, covid-19, essential, guidelines, King County, open house, pandemic, preview, real estate, safety, Seattle, sell, show, tour, virtual, washington state
Nothing in life lasts forever – and the same can be said for your home. From the roof to the furnace, every component of your home has a lifespan, so it's a good idea to know approximately how many years of service you can expect from them. This information can help when buying or selling your home, budgeting for improvements, and deciding between repairing or replacing when problems arise.
According to a National Association of Home Builders (NAHB) study, the average life expectancy of some home components has decreased over the past few decades. (This might explain why you're on your third washing machine while Grandma still has the same indestructible model you remember from childhood.) But the good news is the lifespan of many other items has actually increased in recent years.
Here's a look at the average life spans of some common home components (courtesy of NAHB).
APPLIANCES. Of all home components, appliances have the widest variation in life spans. These are averages for all brands and models and may represent the point which replacing is more cost-effective than repairing. Among major appliances, gas ranges have the longest life expectancy, at about 15 years. Electric ranges, standard-size refrigerators, and clothes dryers last about 13 years, while garbage disposals grind away for about 10 years. Dishwashers, microwave ovens, and mini-refrigerators can all be expected to last about nine years. For furnaces, expect a lifespan of about 15 years for electric, 18 for gas, and 20 for oil-burning models. Central air-conditioning systems generally beat the heat for 10 to 15 years.
KITCHEN & BATH. Countertops of wood, tile, and natural stone will last a lifetime, while cultured marble will last about 20 years. The lifespan of laminate countertops depends greatly on the use and can be 20 years or longer. Kitchen faucets generally last about 15 years. An enamel-coated steel sink will last five to 10 years; stainless will last at least 30 years; and slate, granite, soapstone, and copper should endure 100 years or longer. Toilets, on average, can serve at least 50 years (parts such as the wax ring, flush assembly, and seat will likely need replacing), and bathroom faucets tend to last about 20 years.
FLOORING. Natural flooring materials provide longevity as well as beauty: Wood, marble, slate, and granite should all last 100 years or longer, and tile, 74 to 100 years. Laminate products will survive 15 to 25 years, linoleum about 25 years, and vinyl should endure for about 50 years. Carpet will last eight to 10 years on average, depending on use and maintenance.
SIDING, ROOFING, WINDOWS & DECKS. Brick siding normally lasts 100 years or longer, aluminum siding about 80 years, and stucco about 25 years. The lifespan of wood siding varies dramatically – anywhere from 10 to 100 years – depending on the climate and level of maintenance. For roofs, slate or tile will last about 50 years, wood shingles can endure 25 to 30 years, the metal will last about 25 years, and asphalts got you covered for about 20 years. Unclad wood windows will last 30 years or longer, aluminum will last 15 to 20 years, and vinyl windows should keep their seals for 15 to 20 years. Cedar decks average 15-25 years if properly cleaned and treated, while high quality composite decks should easily last 30 years with minimal maintenance.
Of course, none of these averages matter if you have a roof that was improperly installed or a dishwasher that was a lemon right off the assembly line. In these cases, early replacement may be the best choice. Conversely, many household components will last longer than you need them to, as we often replace fully functional items for cosmetic reasons, out of a desire for more modern features, or as a part of a quest to be more energy efficient.
Are extended warranties warranted?



Extended warranties, also known as service contracts or service agreements, are sold for all types of household items, from appliances to electronics. They cover service calls and repairs for a specified time beyond the manufacturer's standard warranty. Essentially, warranty providers (manufacturers, retailers, and outside companies) are betting that a product will be problem-free in the first years of operation, while the consumer who purchases a warranty is betting against reliability.
Warranty providers make a lot of money on extended warranties, and Consumers Union, which publishes Consumer Reports, advises against purchasing them. You will have to consider whether the cost is worth it to you; for some, it brings a much-needed peace of mind when making such a large purchase. Also, consider if it the cost outweighs the value of the item; in some cases, it may be less expensive to just replace a broken appliance than pay for insurance or a warranty.
---
ABOUT WINDERMERE MERCER ISLAND
We earn the trust and loyalty of our brokers and clients by doing real estate exceptionally well. The leader in our market, we deliver client-focused service in an authentic, collaborative and transparent manner and with the unmatched knowledge and expertise that comes from decades of experience.
© Copyright 2019, Windermere Real Estate/Mercer Island. Adapted from an article originally posted on Windermere.com.
Posted on October 17, 2019 at 10:06 pm
Windermere MI
Category:
Uncategorized
Tagged

addendum, attorney, buy, buyer, clause, contingencies, contingency, contract, financing, HOA, lease, leases, protection, purchase, real estate, title